What income levels qualify for lower costs?
---
---
To learn if you qualify for lower costs on health coverage, find your estimated 2014 household income and household size on the chart below.
Important. Marketplace Open Enrollment ended March 31. You can still buy a Marketplace health plan only if you qualify for a special enrollment period. You can apply for Medicaid and CHIP any time. Learn about special enrollment periods and other coverage options after Open Enrollment. Open Enrollment for 2015 coverage starts November 15, 2014.
Choose the column for your household size. The column on the left shows income levels that qualify for lower costs on premiums and out-of-pocket costs for private health insurance, and for low-cost health care through Medicaid.
Quick Check Chart: Do I qualify to save on health insurance coverage?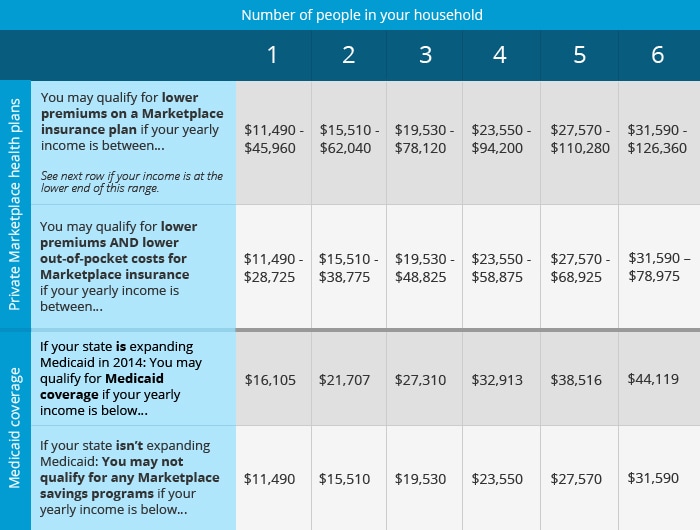 See a full-screen version of this chart.
View an accessible version of this chart.
Higher incomes qualify for lower costs in Alaska and Hawaii. See Alaska and Hawaii information.
How to use this health care savings chart
Most people can use adjusted gross income to estimate income. When you fill out a Marketplace application a different figure, called modified adjusted gross income, is used. Learn more about estimating income.
Include in your household everyone you will claim as a dependent on your tax return and any children who live with you. Be sure to include their income when you estimate your household income. Learn more about who to include in your household.
As a next step, view health and dental insurance plans available in your area. Price quotes shown account for lower costs you may be eligible for based on your income and household size.
Find out if your state is expanding Medicaid coverage by visiting our Medicaid page and choosing your state from the dropdown menu near the bottom.
As the chart shows, if your state ISN'T expanding Medicaid, you have limited income, and you don't qualify for Medicaid under your state's current rules, you don't qualify for either Medicaid or lower costs on private health insurance. Learn about how you can get low-cost health care at a Community Health Center near you.
If your income is too high to qualify for lower costs, there are 4 ways you can buy a health plan.
More on Marketplace costs and savings